Hotel
Villa Apollon
In the South part of Halkidiki, in this secret paradice of Greece, with the most green ish Nature, the golden sand and the crystal clear see, you will meet the peninsula of Kassandra!

After the isthmus of Nea Potidea you arrive in Nea Fokea: A quiet and Friendly Village, where you have the change to enjoy the Fresh Fish next to the see or your coffe and your drinks under the shadow of the Byzantine Tower (on the hill).

In the entance of the village, near the see with panoramic view, stands the hotel Villa Apollon

It' s a Familiar bysiness, which offers the visitors comfort and friendly service whith the only intention of spendihg the most wonderful and carefree vacation.

---
---
It consists of 13 studios and 5 Apartments. The Studios are commodious with big balkons, there are a double and a single bed, fridge, kitchen set, toilet with shower, aircondition, telephon, radio and colored TV with satellite ptogrammes.

The apartments have two rooms with one double and two single beds. In the front one you find the kitchen set with the Fridge and all the electric devices, that make your vacation more comfortable. They have whether a big balkon or terrace front of a verdurous green garden.

The Villa Apollon it is 150 m of the beach whith amalltype shore and very nice see.

It is 60 klm far from airport of Thessaloniki, 70 klm far from the city of Thessaloniki, 14 klm far from port and 4 klm from the village of kalithea where it is the biggest center of nigth life the Halkidiki.

In the reception, which is open from 8 until 24 o' clock, we wait for you to serve you on everything relates your tour in Halkidiki ( archeological areas, excursions, entertainment, reuting of cars or motorbikes et.)

Besides, you can rent an ombrella for the beach and a locker for your precious personal items.

Inside the Hotel you can find a Mini Market, where you can buy food, refreshments or Greek art and cards.

Finally, there is a breakfast room and an allday bar you can enjoy your coffe or your drinks.

Price list of 2003
| | | | |
| --- | --- | --- | --- |
| Type of Accommodation | Low Season | medium Season | High Season |
| Studios for 2 persons | 32,00 € | 43,00 € | 60,00 € |
| Studios for 3 persons | 38,00 € | 51,00 € | 72,00 € |
| Apartments for 4 persons | 46,00 € | 62,00 € | 86,00 € |
We offer a 10% discount to all Internet users during all seasons!
Low Season: April. 15th to May 31th & Sept. 16th to Oct. 15th
Medium Season: June 1th to July 5th & Aug.26th to Sept. 15t
High Season: July 6th to Aug. 25th
To make a reservation, you need to pre-pay 30% of total amount by making
a deposit to our following bank account:
α) Nasional Bank of Greece with bank account number: 421/761560-42
β) Alpha Bank with bank account number: 815-002101-010459
payee: A.Bambakas & K.Deligiannis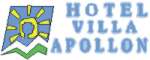 Hotel Villa Apollon
Nεα Fokea Halkidiki Greece 63077
Tel:+302374081515 & +302374081702 Fax: +302374081612
e-mail: apollohotel@in.gr